Autumn Ridge Golf Course is still open for the 2023 Golf Season and we are planning on Golf with Carts until Friday November 17th!  Legend's Pub & Grill will remain open until Friday November 24th, but we will be Closed on Thanksgiving.  Remember our World Famous Black Friday and Cyber Monday Sales events are coming up fast, so grab your advanced rounds vouchers for you or yours loved ones this November 24th and your discounted gift cards on November 27th!  You can purchase them online or the Pro Shop and Pub (Limited Menu on Monday) will be open to grab them in person.  The course is still in FANTASTIC condition for your enjoyment as JJ and the Crew have it ready for your special day.  Jackie and I would like to THANK everyone that stops out to see us! We greatly appreciate your support!
Chad Harrington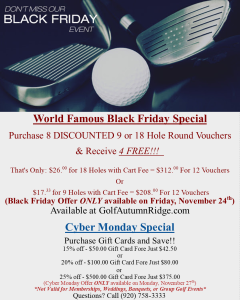 For over 25 years, Autumn Ridge Golf Club in Valders, Wisconsin has welcomed golfers of all ages and ability to experience an unforgettable round of golf. Opened in 1996 and designed by Ernie Schrock, Autumn Ridge has become known as the hometown location for golf the whole family can enjoy.
Each year golfers are tested by our challenging 18 holes of championship golf. Tournaments and golf outings at Autumn Ridge are great ways to get together on the golf course. Be sure to take a look at what options are available to your group this year. Season Passes are available for those interested in enjoying Autumn Ridge to the fullest.
Centrally located between Green Bay, Appleton, Fond du Lac and Milwaukee, Autumn Ridge Golf Club is only a short drive away! The course is also located just 15 minutes north of America's top golf destination which includes Blackwolf Run, site of the 1999 and 2012 Women's U.S. Open, and Whistling Straits, site of the 2004 and 2010 PGA Championships and the 2007 U.S. Sr. Open. From Interstate 43, exit West on Highway C for 7 miles, then South on Pigeon Lake Road for 1 mile.